Home
›
Represent Young People
Your Best Friend branding opportunity

Laine
Fruit loop
Gone for goo
Deactivated
Posts: 2,762
Hey all! We've got an opportunity from
Your Best Friend
for you to get involved with!
Here's a bit about them:
We know that young women and girls often seek help from each other and online, not from traditional services.

Your Best Friend will empower young women with the knowledge and confidence to spot abuse in relationships and support their friends. Experts from 11 charity and digital organisations have come together with experts by experience - young women and girls - to co-create the materials they wish they had, and place them where they are, online and offline.
What we need from you:
It would be great if you could choose your favourite branding theme from the options below! These are just ideas everything is really flexible if you have any other things in mind (And if you're comfortable you could share a bit about why you chose that one, and any thoughts or opinions around it, or the colour scheme ect)
Here's the link:
https://www.canva.com/design/DAEZrdKbs70/V2xkf5J7hHeqM74tqkkfRw/view?utm_content=DAEZrdKbs70&utm_campaign=designshare&utm_medium=link&utm_source=publishsharelink
(Alternatively I've also included the images and descriptions below!)
Concept 01(Helping Hand)
- A helping hand is based on the notion of reaching out for help
- A healthy support system
- A helping hand to guide and support through your hardships
Description:
Various images, one with arms wrapping around a heart. Hands intertwining. Arms forming a heart. Several people of different ethnicities holding hands with a heart in the middle.
Concept 02(Illustrative)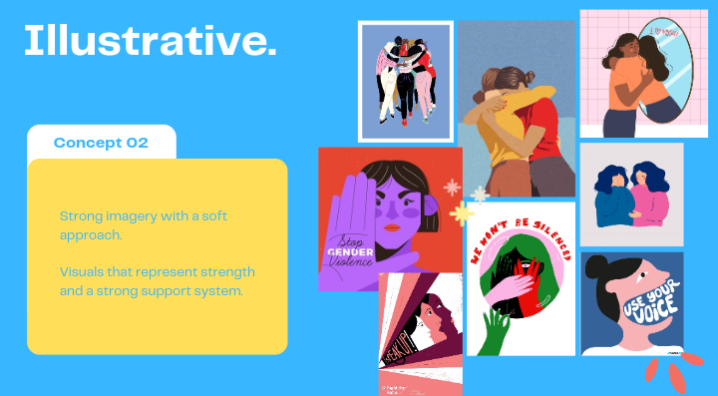 - Strong imagery with a soft approach
- Visuals that represent strength and a strong support system
Description:
Various images, one with a group of women hugging. A woman putting her hand up which reads (stop gender violence). A woman's reflection hugging her. A woman speaking with the words (Use your voice). Two girls hugging. A woman with hands on her face that reads(We won't be silenced). One of 3 women that reads (Speak up)
Concept 03(Help-Line)
- Simple yet comforting imagery
- Can be translated to any chosen design
- Not overwhelming or intimidating
Description:
Various images of drawn people hugging, one with two faces side by side.
The brilliant designer
@RaeLBN
might pop in to ask further questions
Your Best Friend branding opportunity
12 votes
🌈Positive thoughts🌈
"This is my family. I found it, all on my own.
It's little, and Broken, but still good. Yeah. Still good." ~ Stitch

"Lately, I've been struggling with all the simple things in my life" ~ Cian Ducrot
"I don't know if it's because my heart hurts or I'm insecure" ~ Juice Wrld