Home
›
Help Desk
How to report spam
In light of some recent issues with spam and trolling, we've decided to enable a new post reporting feature that gives the community some ability to zap spam when mods aren't around.
How to use the new report buttons

Flag a post as you usually would, but instead of clicking report, use the spam option: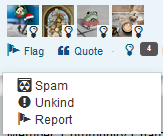 If a post gets one spam report, mods will be notified of the post.

If a post gets three spam reports, it will be removed until a mod can review it.
Note: misuse of the feature will result in points, so please only use appropriately!

Post edited by Mike on