Home
›
Care Experienced Zone
Redacted Files

Anch0r33
Obnoxiously Large Anchor
Somewhere in the sea 🌊
Posts: 1,116
Wise Owl
Anchor here! Coming with another informative information overload.
You might be wondering what redacted files are. I'm here to explain! According to the Merriam-Webster dictionary
redacted
can be defined as "edited especially in order to obscure or remove sensitive information". This means redacted files have been edited to remove sensitive information.
So how are files redacted? A member of staff who has access to your files will spend time redacting them. This will look like big black thick lines that almost look as if they've taken a big black marker and scored over anything you aren't supposed to see. Here's an example of what a redacted file may look like.
So you may be wondering
why
are files redacted? There's numerous reasons for this. Partly it is to anonymise people mentioned who may not want to be named. For example my school files are heavily redacted and teachers names have been redacted. It may feel stupid especially if you can work out who the person is, but ultimately just because you know who that person is, doesn't mean you can prove it if you went to court for whatever reason. It all comes down to data protection. Another IMPORTANT reason is they can redact sensitive information which may actually cause you harm. For example if you were abused as a baby or young infant, they could redact specific details to prevent you from further trauma. They can also redact information that isn't relevant to you, for example an email sent regarding multiple pupils, they would redact everything that wasn't related to you specifically.
Why is it important to talk about redactions? Well redactions are a major part of social work files, CAMHS files and school files. Care experienced people who access their files will much more often than not have redacted files. It's important to talk about redactions because seeing large chunks of your life blocked out can be distressing. You might spend a lot of time trying to work out what's underneath these redactions when it's physically impossible to do so.
I have attached some of my redacted files so you can see how severe the redactions can be. The coloured redactions are ones I've done as you don't need the details but it shows you how much information could be redacted. It's important to prepare for these redactions.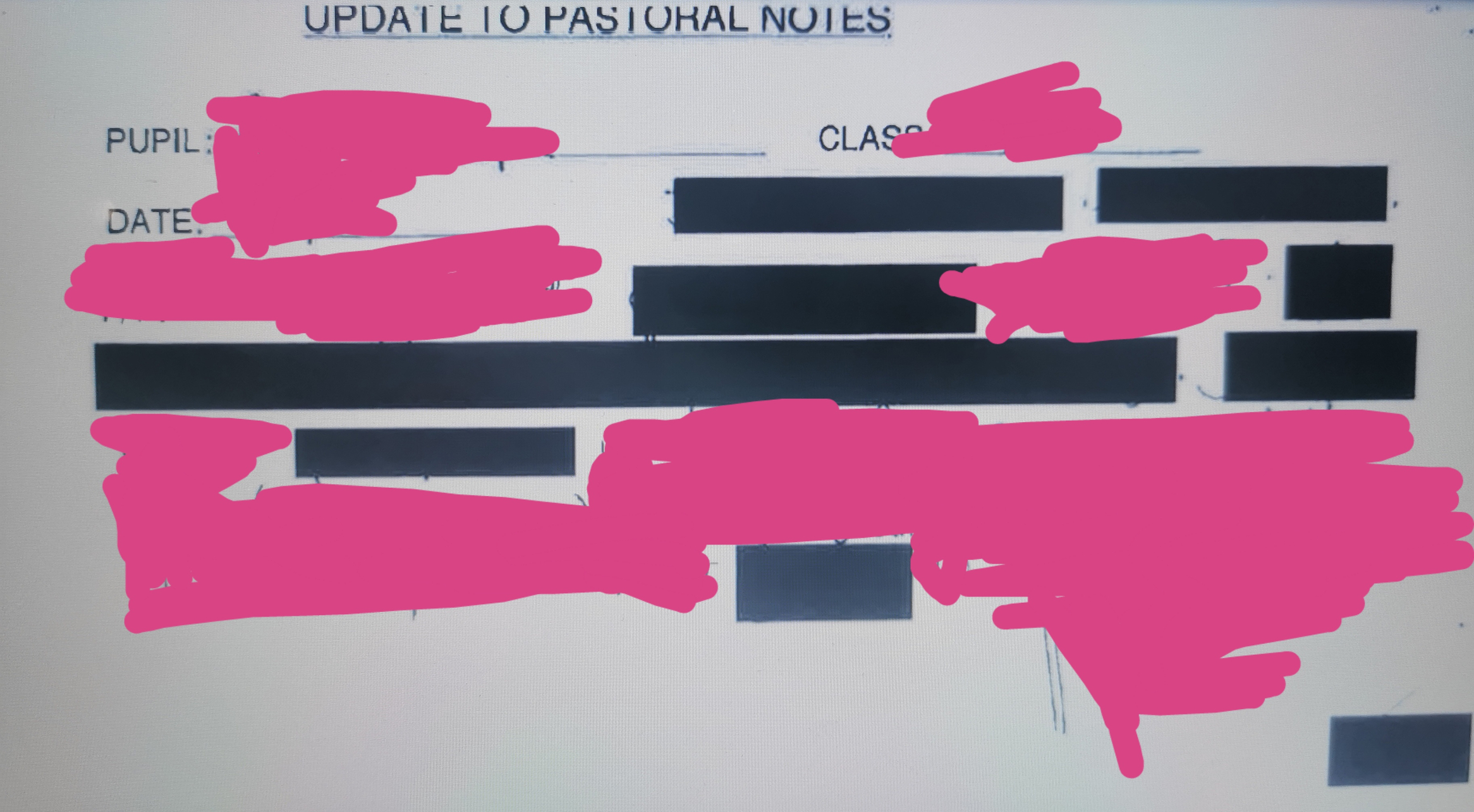 You can see how some information may be totally redacted compared to how some may have snippets of information but large chunks are redacted so it's hard to get the full context. Naturally your head may start to try and fill in these blanks, something which can be mentally exhausting and stressful.
It's important to separate yourself from your files. Take time for yourself and request someone to go through them with you. It's hard, it's gruelling and it effects everyone differently.
I hope this has been informative! If anyone has any question, leave them below!
               (_)
                |
           ()---|---()
                |
                |
         __     |     __
        |\     /^\     /|
          '..-'   '-..'
            `-._ _.-`
                `