Home
›
Health & Wellbeing
At The Mix, we want to make our services as helpful as we can. To do this, we'd love to ask you a few questions about you, your visit to The Mix and its impact. It should take only about 5-10 minutes to complete.
Take this survey
and get a chance at winning a £200 Amazon voucher​.
Come and join our Support Circle, every Tuesday, 8 - 9:30pm!
Sign up here
Traditional Kalymnian Cuisine

Former Member
Posts: 1,876,324
The Mix Honorary Guru
All of my recipes will not be found on the internet because they have been handed down by my Kalymnian people and are copied here most carefully. Only the hot sauce recipe has been obtained elsewhere, but I've added some Poppi magic of my own.
Gigantes Plaki, or Slow-cooked Greek beans with tomatoes, herbs and red wine.
Saturated with intense flavour, these tender, plump beans are an example of peasant food par excellence. If you are lucky enough to find the huge, white `giant beans' with which this dish is traditionally made, then snap them up and never mind the expense, but be sure to give them a long soak overnight. They need to absorb water and swell up before being cooked.
In Greece this dish is habitually baked all day long in the coolest part of a wood-fired oven not very practical for most of those in the UK and elsewhere, but if you possess a slow-cooker (or an Aga), now is the time to use it. We cook the beans on top of the stove, but this requires a very solid pan, a low heat, and intermittent stirring to make sure they don't catch no hassle, provided you're spending the day pottering around at home. The long, slow cooking is necessary for the full flavour of the dish to develop, and it's even better if you make it a day in advance.
The beans are traditionally served lukewarm, at which temperature their flavour is most intense.
250 g (9 oz) dried butter beans
2 tablespoons olive oil, plus extra for serving
4 medium onions, peeled and coarsely chopped
1 teaspoon dried mixed herbs or Greek oregano
3 large cloves of garlic, peeled and thinly sliced
450 g (1 lb) ripe tomatoes, peeled and chopped, or a 400 g (14 oz) tin of chopped tomatoes and juice
1 tablespoon sun-dried tomato paste
230 ml (8 fl oz) dry red wine
salt to taste
Soak the butter beans overnight in plenty of cold water. If you forget, pour boiling water on them, then leave to soak for at least 4 hours.
In a large, heavy pan or flame-proof casserole, warm the oil and sauté the onions and oregano for a few minutes. Add the garlic, tomatoes, tomato paste and wine.
Rinse the beans thoroughly in more cold water, then drain and add them to the pan. Stir well, and top up with a little water if necessary, so the beans are just submerged in liquid.
Bring it all to the boil, then turn the heat down until barely simmering, put a lid on the pan and cook as slowly as possible, stirring from time to time and adding extra boiling water if necessary, for between 6 and 9 hours, until the beans are tender.
On a gas hob you may need a heat diffuser to get the temperature low enough.
Add salt only when the beans are tender, not before, as it would make them stay tough.
When the beans are cooked to your satisfaction, turn up the heat a little and cook uncovered for a while to reduce the sauce, but only if necessary.
Serve the beans lukewarm, with a little extra olive oil drizzled over them, accompanied by some good hot, crusty bread (or garlic bread), a crisp green side-salad and plenty of ice-cold retsina, Mythos or red wine from barrel to carafe, very cheap.
Wonderful.
Rhoda Koullias' Stuffed Tomatoes
The tomatoes would come out of Mummy's garden and would be termed "beef" because home grown beef tomatoes are the largest, delicious and most fragrant you can ever have, or ask for. There's a saying, "If you can't smell em, then you can't taste em." This is so true of shop bought tomatoes. In Pothia the 'beefs' cos no more than 50 cents a kilo. Awesome.
This recipe is 12 stuffed tomatoes for 6 people, though we are such a hungry lot we'll happily eat 4 in one sitting, no problem!
12 firm, ripe beef tomatoes
salt, pinch granulated sugar
3 tablespoons olive oil
1 large red onion, finely chopped
2 cloves of garlic, crushed to release the aromas, then chopped finely
1/4 c chopped fresh parsley
1/2 lb lean lamb or veal, ground
1/4 c white wine, dry
1/4 c spring water, because our tap water is undrinkable
6 tablespoons long-grain rice
freshly ground pepper
2 sprigs fresh mint, or green basil
1 level teaspoon of grated nutmeg
You must always wash the tomatoes, then turn each stem-side down, and with a sharp knife carefully cut the end now up to make an opening or "cap" being careful not to detach the cap entirely.
With a small spoon, carefully, without breaking the outer skin of the tomatoes, scoop the pulp into a bowl. Place the tomato shells in a baking-serving dish large enough to support them touching. Sprinkle the inside of the shells with salt and sugar. Meanwhile, prepare the stuffing.
Heat the oil in a heavy skillet and add the onions. Cook over moderate heat until soft and transparent, then add the garlic and parsley, and blend.
Add the meat, mashing with a fork, then add the wine and water, cover, and simmer for a few minutes.
Add the rice and tomato pulp and stir. (Tomato juice may be added if necessary, since the mixture should provide enough liquid for the rice to absorb.)
Cover the skillet and simmer about 7 minutes, then add salt, pepper, mint or basil, and nutmeg. Taste for seasoning.
Remove from heat, and fill the tomatoes up about two-thirds of the way with the stuffing and liquid. Cover with tomato caps, brush with oil.
Bake in a moderate oven (350 F) until the rice is tender (approximately 50 minutes to 1 hour), basting inside the tomatoes with liquid released by them. Serve warm.
Note: For Tomatoes stuffed with rice, use 1 1/4 cups raw long-grain white rice instead of the meat and rice in the above recipe and, eliminate the wine. Include with the other seasonings a few tablespoons each of black raisins and 2 tablespoons pine nuts, if you like, as pine nuts lent a nice texture and taste. Rice in baked stuffed dishes takes much longer to cook then over a burner.
Stuffed green peppers, also popular are green peppers that can be made in the same way.
Mummy's Pork and Beans
This Kalymnian recipe for Pork and Beans is one that reflects a traditional method of cooking: meat and vegetables are prepared separately on the stovetop, then combined and cooked in the oven until the tastes meld. Any type of dried bean works well but, as the beans get bigger, use large pieces of meat.
Prep Time: 1 hour
Cook Time: 30 minutes
Total Time: 1 hour, 30 minutes
Serves 6
2 pounds of pork, cut in small or medium chunks
1 pound of Great Northern beans or gigantes or giant lima beans
¾ pound of fresh carrots, diced
½ bunch of flat-leaf parsley, finely chopped
3 ripe tomatoes, pureed (or 2 1/2 cups of stewed tomatoes, pureed)
1 small onion, minced
2 cloves of garlic, minced
1 cup of olive oil
½ teaspoon of salt
¼ cup of olive oil
¼ cup of dry red wine
½ teaspoon of salt
Note: If using Great Northern beans, cut the pork in small chunks. If using yigandes (or giant lima beans), cut pork in larger pieces.
Soak the beans overnight in water. Drain well and bring to a full boil in plenty of water over high heat. Drain and rinse, add enough fresh water to cover plus 3 inches, cover, and boil over medium heat for 45 minutes to one hour, or until the beans are soft but not mushy. (If using canned pre-cooked beans, omit these steps.)
Drain beans, rinse under cold water, and set aside.
In a large saucepan, combine 1 cup of olive oil, carrots, tomatoes, onion, garlic, parsley, and ½ teaspoon of salt. Bring to a boil over high heat. When it reaches a full boil, reduce heat, and simmer uncovered over medium-low heat for 45 minutes, until the carrots are soft. Add ¾ cup of boiling water after 20 minutes.
Preheat oven to 390F (200C).
Season the pork with ½ teaspoon of salt and transfer to a large saucepan along with ¼ cup of olive oil. Brown the meat, stirring frequently, over low heat. When meat is browned and most of the liquid has evaporated, douse (deglaze) with the wine and continue to cook over low heat until tender. Time will depend on the size of the pieces of meat, but it doesn't take long.
In an oven-proof baking dish or roasting pan, combine beans, vegetables with their liquid, and pork. Stir to mix well. Add ½ cup of water and bake at 390F (200C). After the liquid in the pan comes to boil, bake for 30 minutes.
Note: This dish should not be soupy but if it starts to get too dry while cooking, add ½ to ¾ cup of boiling water.
Rabbit Stifado
Rabbit is rich in good nutrients, especially wild rabbit. A winter stew of this makes for economical eating. Very satisfying when serves with Greek giant beans slow cooked in the over with herbs and red wine (recipe of that to follow soon).
115ml red-wine vinegar
2 cloves garlic, lightly crushed
4-6 grains allspice (or ¼ tsp ground)
1 stick cinnamon
4 bayleaves
1 orange, zested
1 large rabbit (or 2 small), jointed
about 5 tablespoons / 80ml extra-virgin olive oil
4 fluid ounces /140ml red wine
3 lbs /1.5kg small onions, peeled
2 tablespoons tomato purée
1 teaspoon honey
Salt and pepper
In a bowl, mix the vinegar, garlic, allspice, cinnamon, bay and orange zest. Add the rabbit, stir to make sure the meat is well covered, then leave to marinade overnight or for 24 hours.
Preheat the oven to 170C/325F/gas mark 3. Take out the rabbit bits and dry on kitchen towel.
Heat the oil in a casserole, and fry the rabbit, a few pieces at a time, until golden all over.
Once browned, put all the rabbit bits in the casserole, add the marinade, wine, onions, tomato purée and honey, then add water to cover and bring to a simmer on the stove-top.
Transfer to the oven for an hour and a half or so, until the meat is falling off the bones.
Check the juices for seasoning, and if necessary reduce to an intensity you like.
All this needs is just a green salad and good bread by way of accompaniment.
Grilled Octopus over the fire.
1 whole raw octopus, medium sized
5 cloves garlic, finely chopped
4 whole lemons, squeezed
1 whole octopus
¾ cup extra virgin olive oil
1 tablespoon oregano
1-2 pinch pepper, to taste
2-3 pinchs sea salt, or to taste
1 cup red wine vinegar
Tenderize the octopus with a meat hammer or, thrash it against concrete as Greeks most enthusiastically do, to soften it up.
Next, cut and clean the octopus into pieces about twice the size of a serving, because the meat will shrink when it's cooked.
Combine the vinegar, a ¼ cup of olive oil, the garlic, some oregano, salt and pepper.
Place marinade in large ziploc bad and add octopus.
Marinate octopus overnight for best results, but three hours in the fridge will do.
To cook, warm the grill to low-medium heat and lay the meat on the grill.
Baste with a mixture of the remaining olive oil, the juice from the lemons and the oregano, being careful not to cause a flame to erupt in the barbecue.
When the octopus is done (about 15 minutes) plate it up and pour the remaining marinade over the octopus and serve. In Greece it is handed to you with a wedge of lemon on the side to squeeze over the octopus. I simply adore drinking ouzo with octopus. Over ice pour a generous measure of ouzo (it will cut into a milky colour) and drink with this delicious, traditional speciality.
Octopus Croquettes from Kantouni, Kalymnos
Makes about 25 - 30
3.5 to 4 lbs. octopus (I used about 7 smaller octopus), cleaned
3 scallions, 1 scallion left whole and 2 finely chopped
2 sprigs tarragon
Small bunch parsley, 2 sprigs left whole, the rest finely chopped
10 to 12 whole black peppercorns
1 loaf of stale bread, crusts removed
2 medium onions, finely chopped
4 cloves of garlic, minced
1 teaspoon dried Greek oregano
2 large eggs
Salt and freshly ground pepper, to taste
Bread crumbs as needed
1 cup all-purpose flour for dredging
Olive oil for frying
Place the cleaned octopus in a stock pot, cover with water, add the tarragon, 1 scallion, a couple sprigs of parsley and the peppercorns. If using smaller octopus they should turn out much more tender than a larger octopus, however, add a cork to the stockpot as well for good measure. Cover and simmer over low heat for about 35 to 40 minutes. Remove octopus from the pot and cool slightly.
Coarsely chop the octopus and place in a food processor. Pulse until the octopus is finely chopped. Remove the octopus to a large bowl. Cut the stale bread into large chunks, moisten with some water and squeeze with your hands to remove any excess liquid. Add it to the octopus along with the onions, garlic, remaining parsley, scallions, oregano and eggs. Mix well. Add some breadcrumbs until the mixture becomes firm enough to later be rolled into balls. Season to taste with salt and pepper. Cover and refrigerate for at least 1 hour or up to four.
Heat about an inch of olive oil in a Dutch oven until quite hot. Shape the octopus mixture into bite-size balls and roll lightly in the flour. Fry the octopus croquettes a few at a time, turning once, until evenly browned (a few minutes is all they need). Serve warm with wedges of lemon.
Maria Lisgaris's Moussaka
3 large eggplants
1 kg of extra lean ground beef
4 tbsp of olive oil
2 large onions, diced
3 bay leaves
6 cloves of minced garlic
1 can of plum tomatoes, pureed (or Pomodoro)
½ cup white wine
salt, pepper
1 tsp dried basil
3 tsp dried oregano
½ level tsp cinnamon
Peel, wash and cut the eggplants into large, thin slices. Salt and them to drain for
at least an hour. Pat them dry, brush them with olive oil, grill them on high heat (3
minutes per side) and reserve.
Prepare the meat sauce by pouring olive oil into a sauce pan and add your onions,
garlic and bay leaves. Reduce to medium-low and cook until the onions are
translucent. Add your beef and brown. Season with salt and pepper.
Add your wine and reduce until there's barely any liquid. Add your tomato sauce,
oregano, dried basil. Simmer until you have a thick meat sauce. Adjust seasoning
and add your cinnamon. Remove the bay leaves and set aside your sauce.
Béchamel Sauce
½ cup butter
½ cup flour
5 cups of warm milk (no lighter than 2%)
4 eggs
¾ cup of Kefalotiri or Romano cheese
salt to taste
pinch of grated nutmeg
Put the butter in a pot to melt. Add the flour, stirring quickly with a wooden spoon to prevent lumps from forming. Stir & cook the flour/butter mixture to a golden colour.
Pour in the milk while stirring and then and salt to taste, stirring the mixture constantly. When it thickens, turn off the heat and add your cheese and slowly pour in your eggs, continue stirring.
Add your nutmeg and stir.
Assemble
In a large casserole, place one layer of eggplant on the bottom then spread some
meat sauce over top and sprinkle with some grated cheese.
Add the second layer of eggplant and again the meat sauce and the grated cheese.
Pour the Béchamel Sauce on top and sprinkle more grated cheese to help with a
crisp, golden surface. Bake in a pre-heated 375F oven for 30-40 minutes or when
top is golden brown.
Allow the Moussaka to rest for 30 minutes before cutting and serving.
Greek Salad
The secret of any best Greek salad is organic fresh salad leaves, tomatoes, bell peppers and cucumber, the finest extra virgin olive oil you can obtain, fresh herbs (but dried will do) and a nice creamy but mild Feta. Feta that is most commonly available is the "Total" brand made by Fage Dairies and exported worldwide. Just don't use lettuce because it is never used in authentic Greek salad.
Serves 4 generously
500 g / 1 pound Feta cheese, drained and set aside
6 beef tomatoes, chopped medium
1 cucumber, peeled, seeded, halved, and cut into ½ inch pieces
1 small to medium red onion, finely chopped
1 seeded and slice green bell pepper
½ cup Kalamata olives (we never use stoned because they have no flavour)
1½ tablespoons chopped fresh oregano, but marjoram will do, or, ½ teaspoon dried
1½ tablespoons chopped fresh coriander or parsley, or, ½ teaspoon dried
2 tablespoons of the best extra virgin olive oil
1 tablespoon red wine vinegar
juice of half a fresh lemon
pinch salt
pinch freshly ground black pepper
Setting aside the Feta and a little of the fresh herbs, mix all the salad ingredients in a large bowl, sprinkle over the vinegar and lightly season.
Slice the Feta into pieces and lay them on top. Sprinkle with the rest of the fresh herbs
Drizzle extra virgin olive oil on top of the Feta.
Cover the Greek salad with cling film and set aside for at least half an hour for the flavours to unite then serve with warm fresh crusty bread or warmed pizza bread.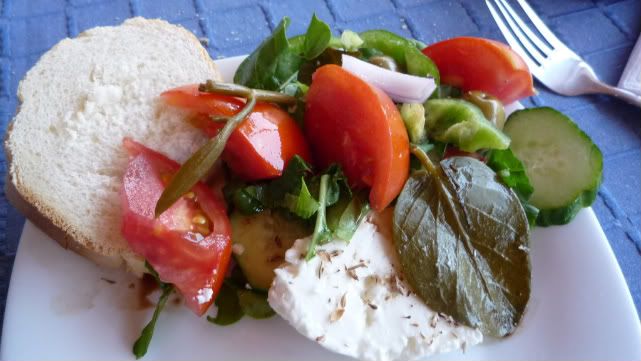 Later I'll post some more recipes.