Home
›
Introduce Yourself
We've started our first discussion for our Christmas campaign which is focusing on religion or cultural beliefs that help you when you're feeling down. Some of the responses will be used anonymously on social media as a video. If you'd like to take part,
head over to this thread
.
from Japan

Former Member
Posts: 1,876,324
The Mix Honorary Guru
:wave: Hey everybody!
I'm actually not from Japan but just living here. I'm originally from the US. I came over in 1999 to study Japanese. I did that and I'm still here.
I work teaching English here. At nights and in my free time, I mess around with graphics design, a little bit of Flash programming and building websites. I've made sites for printable cards and my newest Flash programming work was a magazine cover templatesprogram. I also dig Halloween and making decorations. Here's a shot of last year's Halloween display for a school Halloween party.
Egyptian theme: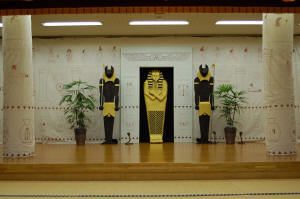 Anyone else in Japan? been to Japan?