Home
›
Anything Goes
At The Mix, we want to make our services as helpful as we can. To do this, we'd love to ask you a few questions about you, your visit to The Mix and its impact. It should take only about 5-10 minutes to complete.
Take this survey
and get a chance at winning a £200 Amazon voucher​.
Come and join our Support Circle, every Tuesday, 8 - 9:30pm!
Sign up here
Netgear Routers / Internet Speed

Former Member
Posts: 1,876,324
The Mix Honorary Guru
Well, I'm going speed crazy at the moment.
After removing the faceplate off the master BT socket my internet speeds increased!
Before:
After: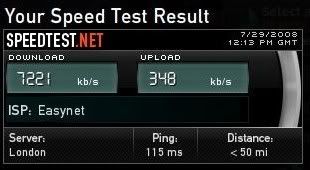 Just to sum that up, I'm going to buy a new faceplate with a build in microfilter that cuts down the amount of wires and distance everything travels in! :cool:
Now i've just got £40 worth of Argos vouchers and I'm looking into getting a new router (Now I'm on sky but I direct the internet to another router at the moment)
Argos link
So I saw this one - But I'm unsure on wether to go for this exact model!
Opinions please